Weddings with Buckeye Entertainment
Your wedding is a once-in-a-lifetime event and we strive to do everything in our power to make it as perfect as you've imagined. Our goal is to make it an event your guests talk about for years. Buckeye Entertainment is the most recommended wedding DJ in Central Ohio and the fact that we consistently win awards like Wedding Wire's Couple's Choice and the Knot's Best of Weddings, year after year (21 times, to be exact!), is proof that we know how to make your day the Best. One. Ever!
How do we do it? Let's start with some experience. We've collectively DJ'd over 5000 weddings in Columbus, have performed at nearly every venue in Central Ohio, AND we are on the preferred list at the best venues in Columbus. From an intimate ceremony of 40 of your closest friends and family at the Kitchen in German Village to an all-out, 400 person crazy-go-nuts at Walter Commons in Bexley, we've been there and we know how to make it a party!
You also need someone behind the scenes making sure things are happening when and where they should be. That shouldn't be you, that should be one of us. We're the ones with the mic, we're the ones who are going get things going. Let us worry about that while you enjoy the day. From creating timelines to executing them night of, we're there from the beginning to make sure you don't need to bother about when the toasts are going to happen or if you're supposed to be cutting the cake right now. We'll keep you posted about the flow of events and we'll keep things to the order you want them. We'll also work with all of your other vendors to make sure everyone's on the same page, executing the night as you had it planned. It's your day and it only happens once–enjoy yourself. Leave the rest up to us!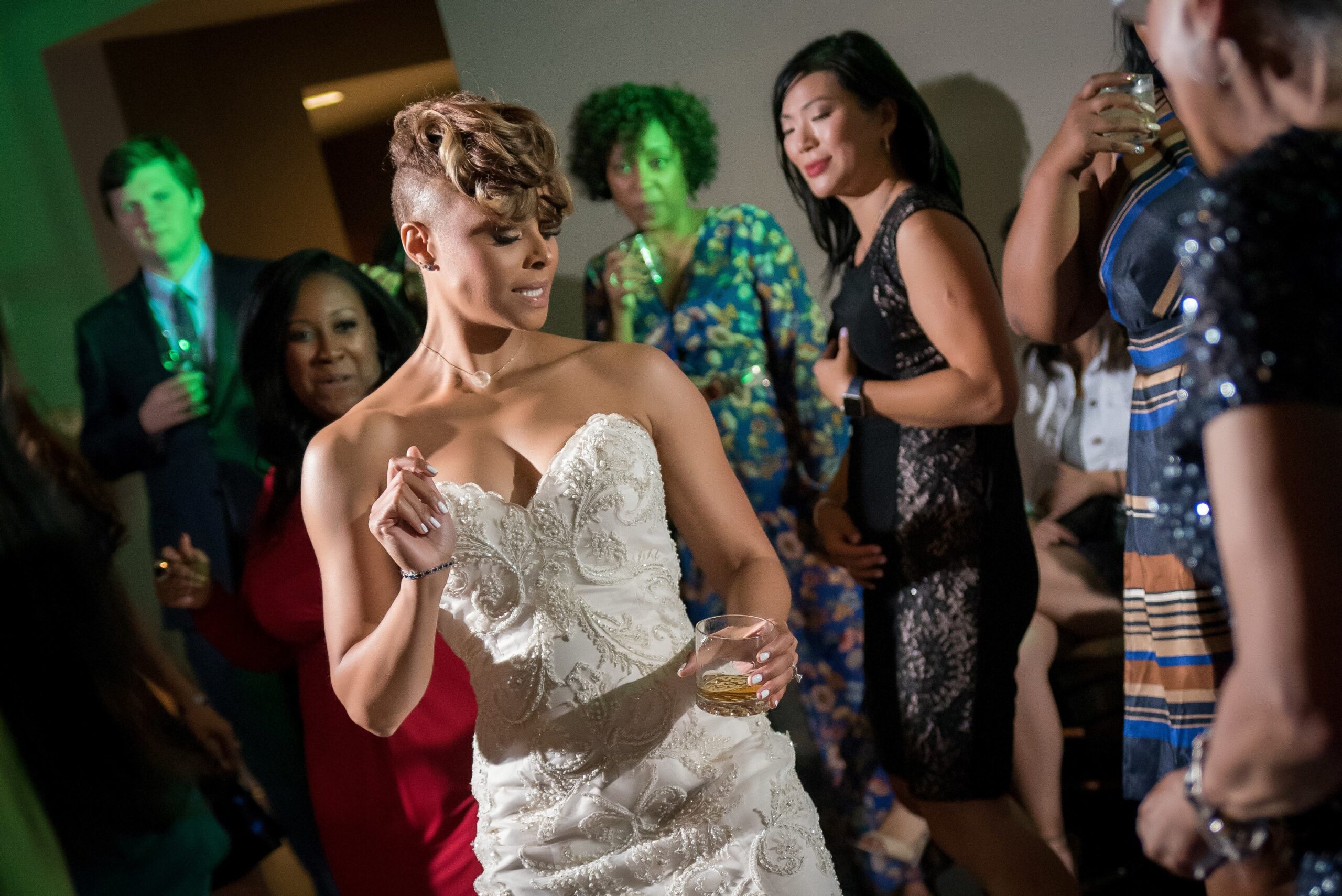 Our Process
This is what makes us different than all the rest. Usually DJ companies will have you do a sales call or meeting with either the owner or a commissioned salesperson and then you're assigned a random DJ later. You don't actually get to meet your DJ to see if you're a good fit. We think that's a pretty terrible way to book a DJ for the most important day of your life. Here's how WE do it (and honestly how every DJ company should): after you've confirmed an available date with us, our available DJ will personally meet with you at our office in Upper Arlington to talk about your wedding, go over the contract, and get to know each other. You'll work with the DJ every step of the way, from beginning to end. We're not going to bait and switch you or assign some random 18 year old kid to your once-in-a-lifetime event. Assuming you and our DJ hit it off and you decide you'd like to book us, our retainer to reserve your date is $250 applied towards the final balance.
We have planning guides to help you, as well as song suggestions for various parts of the reception.  It's all done online from our event planning website and is accessible 24/7.  If you'd like to check out our planner, go to www.buckeyeentertainmentplanning.com and use test123 as the username and password.
Remember, everything is under your control–this is your day!  You can have as much or as little involvement in the process as you'd like.  We are there to help you plan and to make sure your guests have a great time!
Buckeye Entertainment was fantastic. Their website for selecting music was easy to use and gave great recommendations when I wasn't sure what to use. Wade was great about sitting down with us a few weeks beforehand to make sure we were happy with the timeline and music. He got to know us and what style we liked which helped big time when keeping people on the dance floor. There was great music selection that kept the dance floor flowing and Wade really helped by giving us little reminders and prompts of events like speeches and cake cutting. We rented a photobooth through Buckeye Entertainment and it was so easy and so much fun for everyone. They really helped make the ceremony and reception so easy and enjoyable. I would definitely recommend!
What makes us the best
We'll work with you to make your wedding completely yours; no two weddings are ever the same.  However, there are no do-overs in the wedding industry.  We have to get it right the first time, because there is no second time.  This is the kind of service we give at every event, every time:
-Professional, all digital sound system.  Uncle Buddy and his crate of CDs aren't going to be showing up.

-Wireless microphones for toasts/events.  Cords make a mess, nobody needs that.

-100% cheese-free experience. No Chicken Dance, Hokey Pokey, or Macarena.  Unless you insist. We'll do it, but we'll definitely judge you.

-Complete customization of all events and music using our custom-built, online planning system.

-No charge for equipment set-up and removal.  You don't need to pay us to do our job, so we can do our job.

-Back up.  Of everything.  If a drive fails, a speaker explodes or a DJ dies, we've got a replacement ready to go.

-Experienced DJ/Emcees.  Each of us has performed at an absolute minimum of 50 weddings.

-Familiarity with your venue.  We've been to just about every venue in Central Ohio and we've been there more than once.

–Over a half million songs!! If we don't have it, we'll buy it.
-Reception planning assistance, including detailed timelines and song choices, all accessible online 24/7.

-A $1,000,000 liability insurance policy.

-We're not the only ones who think we're great! (Winners of the 2011, 12, 13, 14, 15, 16, 17, 18, 19, 20, 21, 22 & 2023 Wedding Wire Bride's/Couple's Choice Awards AND the 2013, 14, 15, 16, 17, 18, 19, 20, 21, 22 & 2023 Knot Best of Weddings Award, as well as The Knot Hall of Fame!!)
And don't forget about our additional services available, like photo booths, up lighting and photography!
PRICING (5 hour event)
We don't make you listen to a sales pitch before we tell you our price. Since our very first wedding in 2008 we've always had our prices visible and always will. We have also strived to be as affordable as possible. And we don't offer unlimited hours, read why here.
We have a pretty simple three-tiered pricing structure based on date popularity.
$995 Non-Saturdays November-March
$1195 Saturdays in November-March and non-Saturdays April-October
$1395 Saturdays in peak season (April-October) & holiday dates
Ceremonies are no additional charge if they are in the same location (room) as your reception.  Otherwise ceremonies are only an additional $195. If you add on an extra hour AND a ceremony, the ceremony charge is only $150.